En langvarig gave og dekoration
Op til 3 års holdbarhed
Unikke blomsterkreationer
Sammensat i hånden og helt unik
En kærlig tanke
Send nemt en æske over hele landet
En langvarig gave og dekoration
Op til 3 års holdbarhed
Unikke blomsterkreationer
Sammensat i hånden og helt unik
En kærlig tanke
Send nemt en æske over hele landet
Limited edition Autumn signature box
The design of this year's box features a luxurious velvety fabric in a deep persimmon orange color, which is soft to the touch and provides comfort and tranquility from the moment you hold it in your hands. The symbolic golden ginkgo leaf on the lid is a significant design element that stands out with its bold yet delicate lines.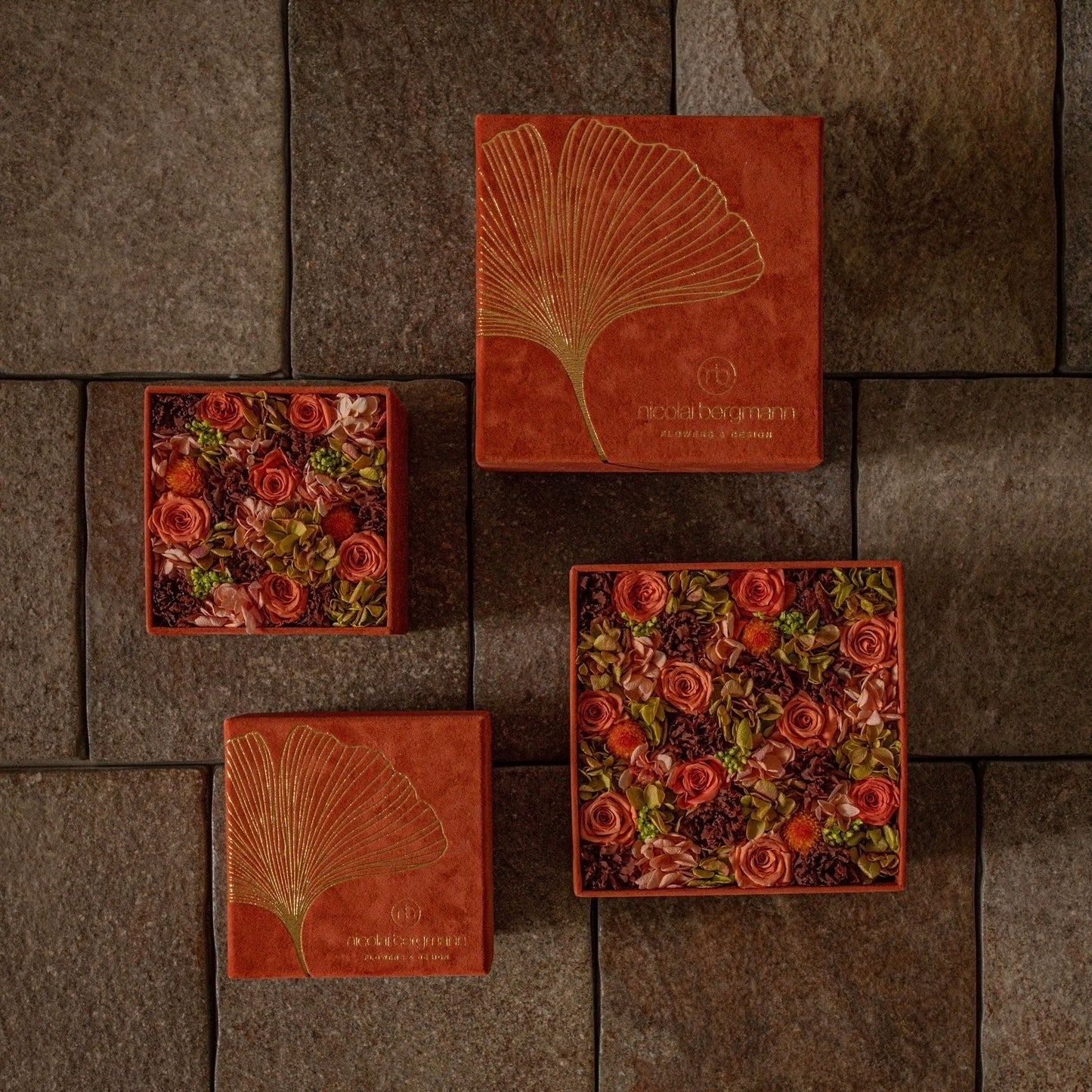 Colours of autumn
Carefully assembled in hand our Limited editiond signature autumn box is sure to suprise anyone or liven up any room.

Det siger andre om blomsteræsken
"Fik en flot æske i 2010, den er stadig smuk!"
Helle Nørkjær
"Jeg har netop modtaget den fineste æske med blomster i lime-grønne og lilla farver. Super dejlig er den, og jeg glæder mig til dagligt at kigge på den smukke "buket". Meget hurtig levering, og et fint håndskrevet kort fra NB Teamet i København."
Marianne
""Det er så skønt at kigge på et perfekt stykke håndværk, og at man så tillige kan få del i de smukke blomsteræsker som Nicolai Bergmann laver, er bare så perfekt."
Linda
"Fantastisk smukke farver i de valgte blomster. Lever til fulde op til billeder på hjemmesiden. Er også meget glad for, at de ikke har fået en eller anden syntetisk duft. Smuk og hurtig indpakning/ levering"
Charlotte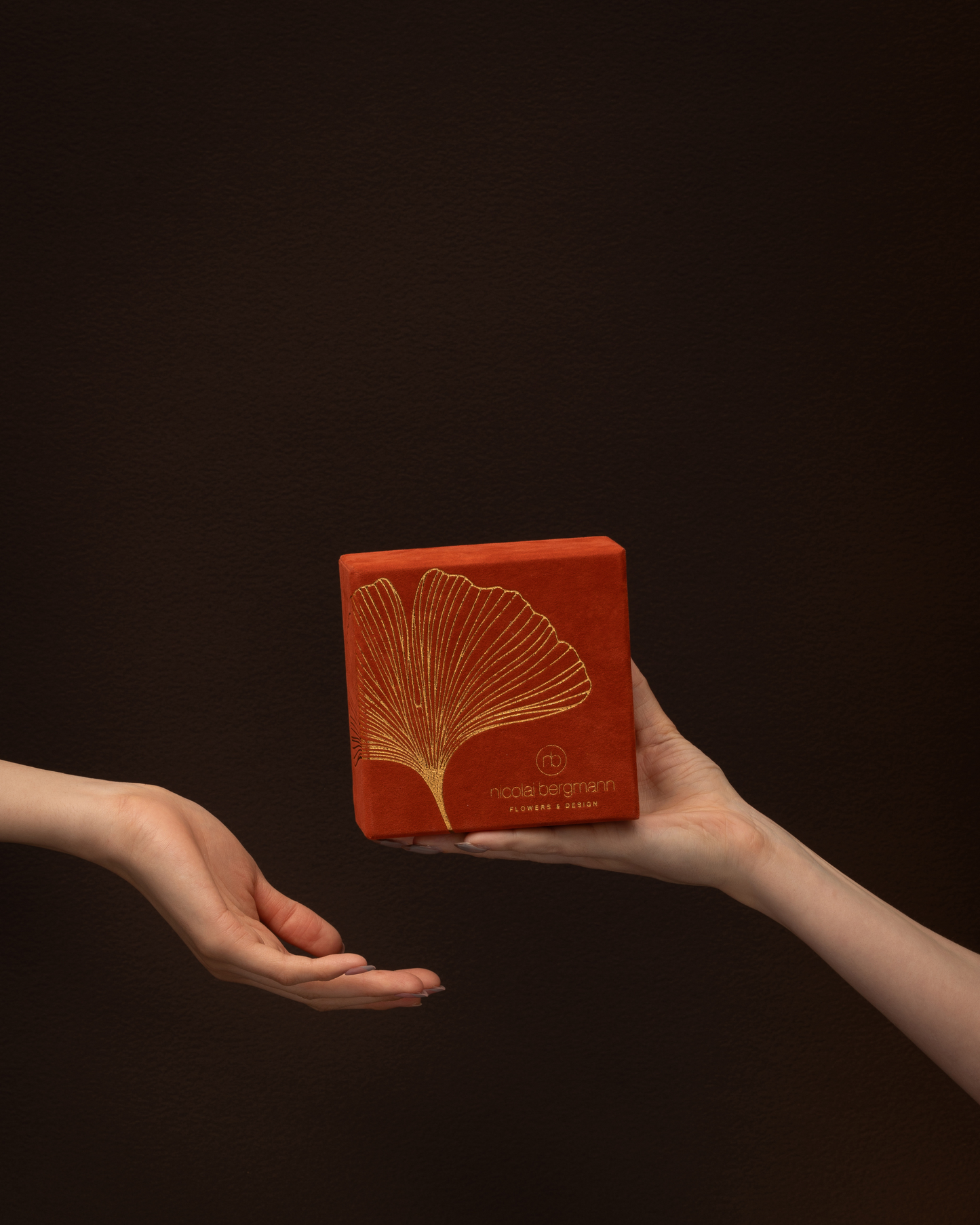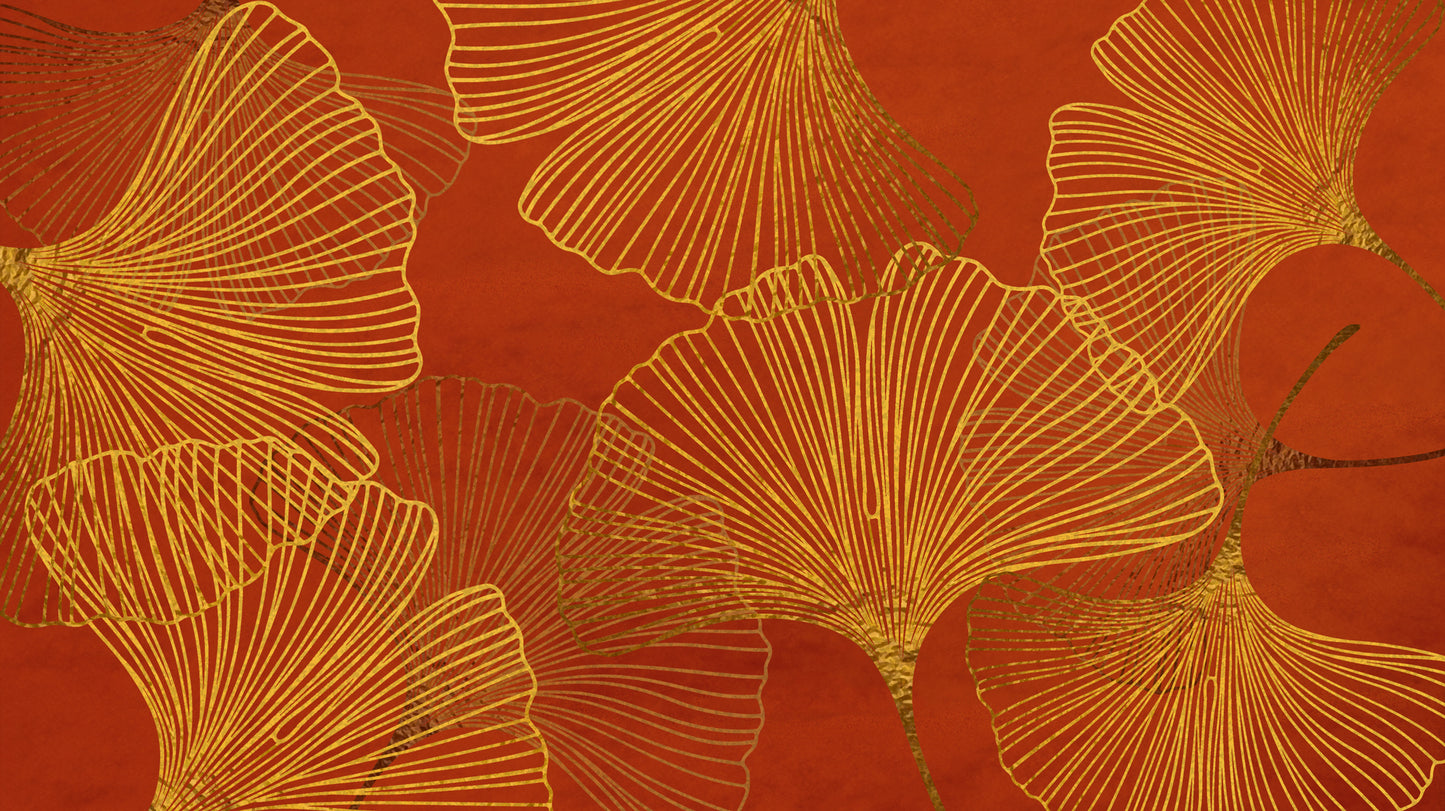 Inspired by the Ginko Leaf
The Ginkgo leaf holds myriad symbolic interpretations, embodying.

Unyielding Resilience - An ancient survivor, the ginkgo maintains its form through ages, representing unwavering strength and endurance in adversity.

Hope Amidst Adversity - Flourishing within urban environments, it becomes a symbol of hope.

Tranquil Equilibrium - Its fan-ike shape mirrors peace and harmony.

Harmonious Duality - The leaf's divided structure captures unity within opposites, reminding us of life's fluidity.

Echoes of Time - Linked to memory, it evokes nostalgia, while its survival post-Hiroshima instills hope for a brighter future.
En langvarig gave og dekoration
Op til 3 års holdbarhed
Unikke blomsterkreationer
Sammensat i hånden og helt unik
En kærlig tanke
Send nemt en æske over hele landet
En langvarig gave og dekoration
Op til 3 års holdbarhed
Unikke blomsterkreationer
Sammensat i hånden og helt unik
En kærlig tanke
Send nemt en æske over hele landet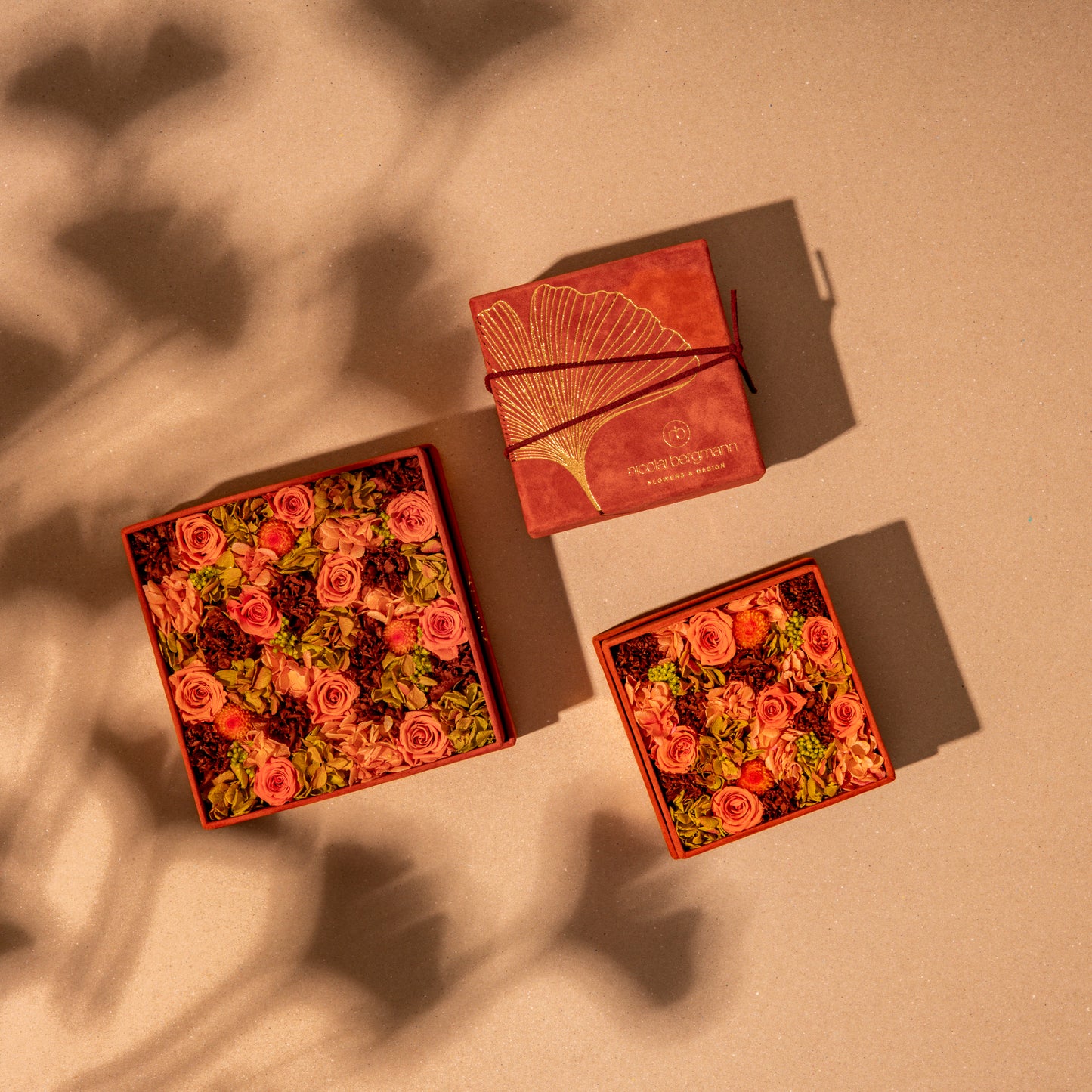 Easy delivery and fast shipping
Ordering a flower box from Nicolai Bergmann is a straightforward and hassle-free process. The flower box can be delivered directly to the recipient's home or office, making it a convenient and thoughtful gift.
Frequently asked questions
What are preserved flowers?

Preserved flowers are 100% natural flowers that have been processed to maintain their fresh appearance for up to 3 years, with no need for water or sunlight.
Delivery

All orders are processed on the same day (excluding Sundays, Mondays and holidays) if the order is placed until 12pm (noon). You will receive another notification when your order has shipped.

Mother's Day 2023 Preorders are shipped from April 15th, 2023.

Shipment within Denmark normally takes 1-3 business days. 
Flower Boxes

The flower box is today a trusted way of giving flowers for many people here in Denmark, but also around the world.

The flower boxes are today a very common decor item and also a treasured gift to that special you hold dear.

The flower boxes you find here in our online shop are made by preserved flowers that last for years and maintains a vivid and fresh expression for years - unlike dried flowers, that typically vitters, dries even more and becomes smelly after some months.